---
Upcoming Classes and Events
---
(See a list of all classes here.)

Webinar, February 13 - April 3
Building Awareness II: Psychic Senses
In this class, you will take the blinders off! You will learn the different ways to sense energy, and which senses are easiest for you. Your abilities will be enhanced and new ones opened, plus you will learn how to control them. For beginners and more advanced people. Prerequisite: Building Awareness I: Psychic Protection

Webinar, April 10 - June 5
Optimal Human Beingness
Understanding and Evolving Your Four-Body System
This is the class you will wish you had taken as a child to prepare you for life as a human being! Foundational materials and a prerequisite for many other classes.

Webinar -- April 14, 21, and 28
Path of Light
The progress of spiritual evolution, from neophyte to high initiate, has been taught in mystery schools for many thousands of years. This class gives you the advanced esoteric concepts and practical skills needed to follow your unique path of spirituality smoothly and quickly. Prerequisites: Introduction to the Spiritual Path and Optimal Human Beingness

Webinar, April 18 - June 6
Building Awareness V: Expansion
This class takes you deeper into experiencing energy and consciousness, and helps you expand your awareness to more fully grasp who you really are. Learn advanced psychic skills and greater awareness and perception of the non-physical realms. Prerequisite: Building Awareness IV: Conscious Incarnation

Webinar Series, Starts April 26
Letting It All Go!
Releasing Karma and Pain from Your Past
Clear the slate on your personal and ancestral histories! Being on a spiritual path requires that we all heal limiting and painful energies from our past. This brings us more into present time so we can create our perfect lives NOW.

June 22-24, 2018 in Mt Shasta
Initiations in the Order of Melchizedek
Our annual spiritual gathering. Being initiated into this cosmic order in the presence of spiritual family and friends is highly profound and transformative, and puts you in a closer relationship with the Ascended Masters. More details will be posted soon.

NEW Webinar, July 24 - August 14
Aligning Forces: Creating Change Using Energy from Nature and Spirit
Learn how to tap into the forces around you and direct them toward a goal. This class teaches basic effective ceremony design and implementation, including how to set up an altar, set a sacred space, use tools, stones, plants, color and many other items to amplify your intent.

Home Study July 28 - August 11
Initiation into the Order of the Blue Snake
Join an amazing group of lightworkers and get tools for your empowerment! New healing energies from Divine Mother for yourself, your life, and the world.
---
Ongoing Programs
---
Home Study Class:
Introduction to the Spiritual Path
Awakening to higher consciousness, and wanting to find the deeper meaning in life, puts you on a spiritual path. This class covers the basics of what it means to embark on a journey back to the Divine, and how to find higher perspective of who you are and why you are here.
Webinar Series:
Building Awareness
An advanced webinar training series that guides people into greater awareness in a step-by-step program of psychic development and spiritual evolution.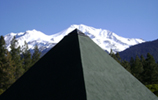 Mt Shasta Pyramid

Unique, powerful, spiritual energies in our 24 X 24 foot pyramid. By appointment only, groups and individuals, for meditation. Short visits and longer vision quests.
---
Initiations in the Order of Melchizedek
June 2017