Upcoming Classes and Events
---
Phone Series, July 7 - Feb 2
Meditations with the Crystals of Isis
Learn more about the Crystals of Isis, a set of nine programmed crystals tuned to Atlantean and pyramid energies. These meditations give practical uses of them, as powerful tools for healing and transformation.
Sept 22-23 FREE Global Meditation
Spiritual Warriors in Action!
Calling all who want to make a difference! Join us for a powerful focus of thousands of lightworkers around the world on the equinox to reduce human struggle by purifying astral pollution that has built up over thousands of years.
Retreat, Dec 21-22
Conclave in the Valley of Emergence
Join us for a transformative solstice in the deepest valley of North America (formerly called Death Valley). Meet some amazing Beings, visit the new etheric Ascended Master Retreat, join in sacred ceremony and meditations.
---
Ongoing Programs
---
Home Study Class:
Become a Powerful Land Healer
Learn a highly effective way to clear harmful energies from your home, a method developed by Antera and Omaran over a decade of experimentation and working with Ascended Masters, angels and nature spirits.
Home Study Class:
Initiation into the Order of the Blue Snake
Empower yourself and receive healing tools from Divine Mother in this life-changing initiation. Join a wonderful group of lightworkers.
Home Study Class:
Introduction to the Spiritual Path
Awakening to higher consciousness, and wanting to find the deeper meaning in life, puts you on a spiritual path. This class covers the basics of what it means to embark on a journey back to the Divine, and how to find higher perspective of who you are and why you are here.
Home Study Class:
Optimal Human Beingness
Understanding and Evolving Your Four Body System
Study at your own pace with this home study course. This is the class you will wish you had taken as a child to prepare you for life as a human being!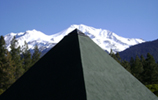 Mt Shasta Pyramid

Unique, powerful, spiritual energies in our 24 X 24 foot pyramid. By appointment only, groups and individuals, for meditation. Short visits and longer vision quests.
---
June 2015 Initiations
in the Order of Melchizedek
Crystal Activation of the High Heart in Mt Shasta Dec 2014