---
VIDEO ABOUT THE UPCOMING JUNE EVENT

---
Upcoming Classes and Events
---
Webinar, March 30 - May 18
Building Awareness III: Spirit Guides
Develop your ability to get information and guidance from Beings of Light who can speed your spiritual evolution. You will learn how to discern high-level guides, how to work with them, and what to expect as you learn conscious verbal channeling. Prerequisites: Psychic Protection and Psychic Senses
Webinar, May 22, 29, and June 5
Path of Light
Learn advanced esoteric knowledge about the spiritual path, through many incarnations and beyond enlightenment. Fascinating concepts from the higher perspective.
June 17-20, 2016 in Mt Shasta
Initiations in the Order of Melchizedek
Our annual spiritual gathering. Being initiated into this cosmic order in the presence of spiritual family and friends is highly profound and transformative, and puts you in a closer relationship with the Ascended Masters.
Webinar, August 24 - September 28
Building Awareness I: Psychic Protection
As you build more awareness of the non-physical universe, it is very important that you understand how to claim and protect your personal energy field. Energy-sensitive people often draw in energies or attention that can distract, influence, or harm them. Prerequisite: Optimal Human Beingness
---
Ongoing Programs
---
Home Study Class:
Introduction to the Spiritual Path
Awakening to higher consciousness, and wanting to find the deeper meaning in life, puts you on a spiritual path. This class covers the basics of what it means to embark on a journey back to the Divine, and how to find higher perspective of who you are and why you are here.
Home Study Class:
Optimal Human Beingness
Understanding and Evolving Your Four Body System
Study at your own pace with this home study course. This is the class you will wish you had taken as a child to prepare you for life as a human being!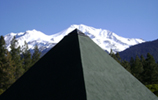 Mt Shasta Pyramid

Unique, powerful, spiritual energies in our 24 X 24 foot pyramid. By appointment only, groups and individuals, for meditation. Short visits and longer vision quests.
---
Conclave in the Valley of Emergence, Dec 2015